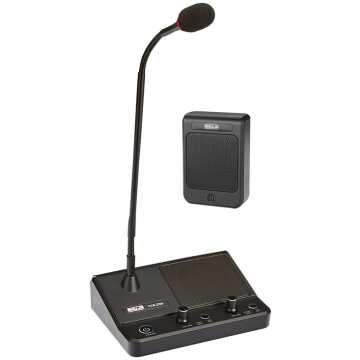 2 Way Counter Communication System.
Unique design, pleasing aesthetics & rugged construction.
Duplex communication technology, ideal for ticket counters, enquiry counters, banks, embassies, hospitals etc. …. Wherever two way communication is required across a glass barrier. (Can also be used for one way communication).
Compact & elegant Attendant Unit with gooseneck microphone, in black colour finish, for flexible sound pickup angle.
Separate switches for switching the Host Unit mic, or the External Unit mic, ON or OFF.
Separate volume controls on the Host Unit for adjusting the audio output level of the Host Unit and the External Unit.
Host Unit mic has automatic voice priority over the External Unit mic. When attendant is speaking into the Host Unit mic, the mic of the External unit is automatically muted.
Exclusively designed lightweight plastic external unit, which can be easily mounted on any flat surface. Double sided fixing pad provided.
External unit houses a condenser mic cartridge and an efficient speaker for clear and intelligible sound outside the glass barrier.
Audio output for recording available through 3.5mm phone jack on the Host Unit. This is a stereo output having signals from both the Host Unit mic and the External Unit mic.
A 3.5mm phone jack is provided on the rear panel of the Host Unit for Line Input. This feature can be used to play back pre-recorded messages through the external unit speaker by connecting the Pre-amp output or Line Output of any Ahuja amplifier to the Line Input of the Host Unit.
The system is easy to install and simple to operate.
The Host Unit is a table top unit which operates on 12V DC, through an AC adapter supplied alongwith.
Buy Now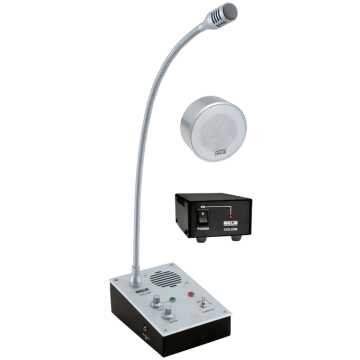 -12%
AHUJA introduces CCS-2300, a 2 way counter communication system , exclusively designed for easy and effective conversation across counters with transparent security barriers. It consists of an attendant unit, a customer unit and a power supply unit, which are easy to install and simple to connect through dedicated cables as supplied with the system.
Unique design, pleasing aesthetics & rugged construction.
Two-way, hands-free communication.
Easy, hassle-free installation.
Compact & elegant table top attendant unit with 20" long gooseneck microphone for strain-free usage.
A 3.5mm jack socket is provided for connecting a headband microphone like Ahuja HBM-50. This is useable by the attendant as an alternate to the fixed gooseneck microphone.
Separate controls for adjusting the speech levels during Talk & Listen modes of operation.
Special Auto-Mute ON/OFF option provided through a toggle switch. In Auto-Mute ON condition, the customer's microphone is partially muted if it is not used for 30 sec. approx. This facility prevents the attendant from being disturbed by unwanted outside noise.
The customer's unit has an efficient speaker and a sensitive condenser cartridge, mounted in a beautifully designed housing.
Attendant's microphone has voice priority over the customer's microphone.
Buy Now