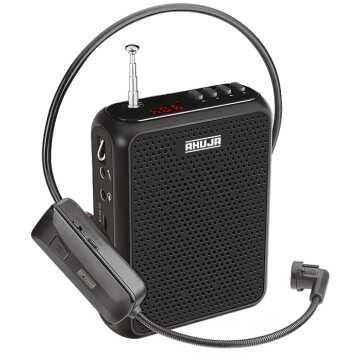 Ahuja's portable PA amplifier is designed to deliver high-quality sound for various purposes, be it for teaching, tour guiding, yoga classes, presentations or even small group meetings. The Ahuja NBA 30WL Portable PA is easy to operate and can be linked wirelessly to a PC, cell phone or I Pad for immediate audio playback.
Elegant and compact Portable PA amplifier with max. output power 10W.
Built-in high capacity rechargeable battery, 4hrs charging lasts for more than 10hrs operation.
UHF wireless transmission technology, long operation range.
Rare earth material speaker, light weight, wonderful sound, high volume.
Wireless playing function to link with cell phone/PC/I Pad to play music.
TF card for audio playing in MP3/WAV format. Recording function to record audio file in WAV format.
Automatic FM stations searching, saving more than 50 channels.
Supplied with a headband microphone, a neck strap and an USB micro charging cable (for recharging the built-in rechargeable battery only).
3.5mm Mic input socket for connecting the headband microphone and a 3.5mm Line input socket for connecting a DVD, CD or an MP3 player.
Ideal for: Teaching, Tour Guides, Yoga Classes, Play Schools and Small Group Presentations.
Buy Now